Boy who dialled 999 after his mother collapses wins bravery award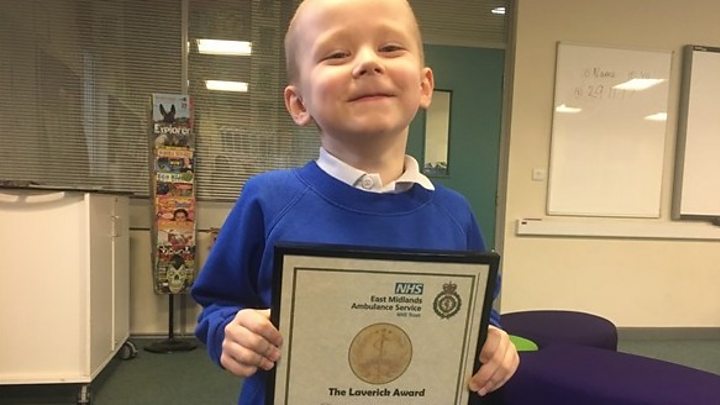 A six-year-old boy who called for an ambulance when his mother collapsed at home has been rewarded for his courage.
George Mart was just five when his mother Leanne became unconscious and collapsed on the floor of their home in Belper, Derbyshire.
The youngster dialled 999 and organised an ambulance for her.
His mother, who has since made a full recovery, said she was "so proud" of her son.
"George knows to call 999 if mummy is poorly, and he was so good on the phone," she said.
The schoolboy told East Midlands Ambulance Service (EMAS) operator Bryan Cox his mother had collapsed.
George, who was also at home with his two-year-old sister Rosha, stayed on the phone until his mother regained consciousness.
Following the phone call, Mr Cox nominated George for a Laverick bravery award, which recognises courageous young people.
The prize is named after former EMAS paramedic team leader Nick Laverick, who died of cancer on his 37th birthday in 2013.
After George was given the prize, he said: "It was a surprise and the award makes me really happy."
Paramedic Kathy Farmer added: "George is truly deserving of this award. We are honoured to be sharing Nick's legacy through this award."