Derby taxi fleet faces renewed safety questions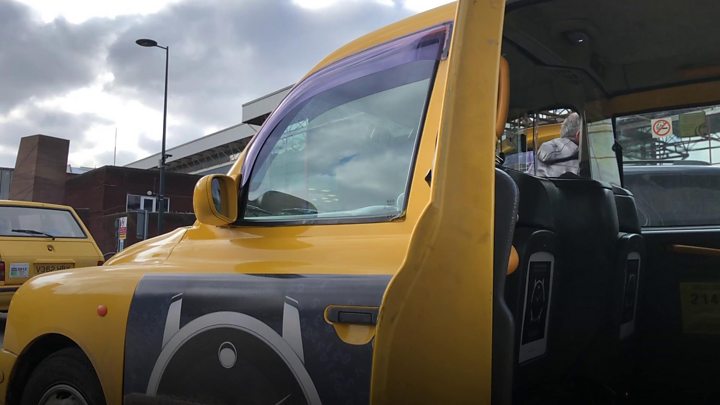 Taxis in Derby are safe, officials say, despite four out of five inspected in spot checks being taken off the road.
Police said one vehicle was "the worst seen in a long time" and "as rotten as a pear", with corrosion making seats unsafe.
Despite the results of the checks on Monday, the city council insisted it had confidence in the wider vehicle licensing system it uses.
But it said a change from annual to six monthly checks was being consulted on.
In the monthly inspection - held by the council and police - all five private hire vehicles and hackney carriages pulled over had defects, with four drivers immediately having their vehicle licence suspended.
Safety issues included seats that would fall through the floor in the event of a crash, sparking batteries posing a fire risk under the bonnet, and suspension that was snapped in half.
In November, police said the city's taxis were in "unacceptably poor" condition.
They revealed just 38 of nearly 300 Hackney carriages licensed in Derby were under 10 years old - the oldest being 23 years old.
PC Matt Walker, from Derbyshire Police, who carried out the checks, said: "I would expect a professional driver to be absolutely spot on with their vehicle, especially if they're carrying around members of the public in them, and that's not what we're seeing."
Imtiaz Ali, whose vehicle licence was suspended during Monday's checks, denied he was unconcerned about safety.
'Rigorous inspection'
"I'll make sure it was up to standard. I don't care about the public - first of all safety is for me," Mr Ali, whose taxi was first registered in 2002, said.
"Then, of course, I like to see the people safe as well."
Unlike other local authorities, the city council has no restrictions on the age of its taxis.
But Baggy Shanker, cabinet member for governance, said: "They do go through a rigorous inspection when the inspection is due.
"There are various inspection stations across the city and I'm sure none of these test stations would pass a vehicle which is not safe to be passed, so I'm confident in the system."