Choir's last 'home' concert before equal opportunities move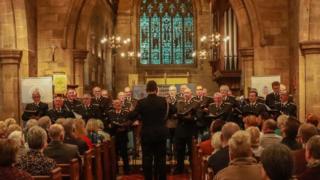 A police male voice choir has performed its final concert in its home city before severing ties with the force due to equal opportunities policies.
Derbyshire Constabulary Male Voice Choir was asked by the force to become a mixed-voice group last year.
The group said it would be "difficult" to hire the 50 women needed to balance the sound and would instead become Derbyshire Community Male Voice Choir.
The choir's last Derby concert was held before its name-change due in June.
Derbyshire chief constable Peter Goodman said the group was "incompatible" with force equal opportunity policies.
Choir member Mark Kohrs said Saturday was a little sad "because he was proud of the heritage the choir had created".
"Sixty-two years is a long time and it is a little sad to see a line drawn in the sand. But, on the other hand, we are very excited as a choir that we are moving on."
Fellow choir member Ellis Pugh said the circumstances had pulled the choir together more.
"We recognise we don't agree with the decision, but everyone is now more driven and focussed on making this choir the best we can be," he said.
Audience member Liz Richardson, whose husband is a choir member, said: "It is very sad that they have been discarded. That's what it's felt like, without much discussion. Well, of course, a male voice choir is a male voice choir. You can't have women in it. It's crazy."
Sue Moore, who was there to see Saturday's concert, said: "We have male voice choirs and we have female voice choirs. I don't see there is a problem."
The group will perform for the very last time as Derbyshire Constabulary Male Voice Choir in May in South Wales.