Devon's winter gritting network 'improved and extended'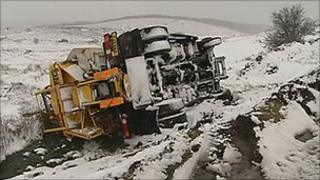 Gritting on primary and secondary routes in Devon will be improved this winter, the county council has said.
It was ranked as the best authority in England for gritting and snow clearance in a National Highways public satisfaction survey in 2009.
Despite the accolade, the council has approved a number of changes.
Routes to some hospitals and schools will be treated, snow wardens will be appointed to help treat local roads and advice labels put on public grit bins.
The changes follow an assessment of its response last winter, taking into account national reviews by the Department for Transport and the UK Roads Liaison Group.
The council said extending its primary network would provide "reasonable access" to treated roads for about 70% of the traffic on Devon's roads.
It has also reassessed the secondary salting network to include main access routes to areas with a population of between 100 and 500, park and ride sites, some bus routes and council properties providing essential services.
Improving both primary and secondary networks should give reasonable access to treated roads for 96% of Devon's residents, the council said.
Councillor Stuart Hughes, cabinet member for highways and transportation, said: "Our winter service policy has been robust but we can improve upon it with this fine tuning and we will be as prepared as we can be."
Farmers' support
"It would be very sensible to use the purchasing power of the county council to get a good deal for towns and parishes if they want to have a stock of salt themselves," Mr Hughes added.
The cabinet has also agreed to publish a leaflet explaining what the public can do to help themselves.
Town and parish councils will be encouraged to appoint snow wardens to be trained and supported in treating local roads and footpaths. Discussions will continue with the National Farmers' Union to establish what capability farmers should support their local communities in extreme weather.
About 30,000 tonnes of salt were used on Devon's roads last winter - twice the normal amount - and the cost of the snow and freezing temperatures was £7.5m.