Devon school isolated boy with wrong type of footware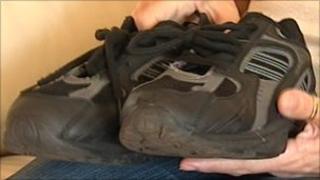 A Devon mother says she is disgusted after her 11-year-old son's new school segregated him for wearing the wrong style of shoes.
Josh Downing had just started his first term at Queen Elizabeth Community College in Crediton when he was told his shoes broke new uniform rules.
He had to spend two lessons segregated in a classroom.
The school said the rules, introduced this term, had been issued to all parents and it was not unfeeling.
Josh's mother Suzanne said: "I felt total shock and a little bit of disgust too at they way they handled things.
"I think they could have handled it a bit better than they did.
"I just felt bad for Josh really and the way he was treated."
The school's new rules say: "We want our students to wear footwear which is entirely black in colour, and should be a shoe not a trainer or sandal.
"A black leather shoe without motifs, thicker trainer style laces, trainer style welts and without high heels is the meaning of our description."
The school said clear guidance had been issued to all parents on several occasions.
The school said it was not an unfeeling or uncaring school and the last thing it wanted to do was traumatise children.
Josh now has a new pair of shoes that fit the rules.