Connaught sale to Morgan Sindall saves 2,500 jobs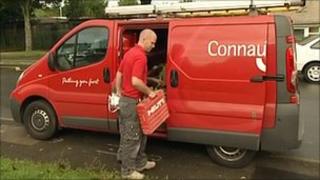 About 2,500 jobs have been saved after administrators agreed to sell the bulk of Connaught's failed social housing group to building firm Morgan Sindall.
Morgan Sindall is paying £28m for the assets, and will take over the majority of Connaught's maintenance contracts.
However, the administrators, KPMG, also announced that about 700 Connaught workers would be made redundant.
KPMG said that it could not immediately confirm the location of where the job losses would be.
Earlier on Friday, KPMG, had confirmed that 95 staff at Connaught's Exeter headquarters had been made redundant.
Fast moving
Connaught's failed social housing unit, Connaught Partnerships, had employed about 4,400 people.
Under the terms of the deal struck with Morgan Sindall, 2,500 employees will be transferred to Morgan Sindall's own affordable housing unit, Lovell Partnerships.
"It is unusual to make a deal [like the one with Morgan Sindall] so early on in the process," a KPMG spokesperson said, adding that speed was of the essence.
Last Updated at 16 Mar 2018, 16:30 GMT
*Chart shows local time
price
change
%
1340.00 p

-

-12.00

-

-0.89
However, there was no news on what would happen to sub-contractors employed by Connaught.
The spokesperson could not confirm whether sub-contractors attached to the contracts sold to Morgan Sindall would now be taken on by the buyer.
Devon-based Connaught Partnerships specialises in maintenance of social housing.
It went into administration amid allegations that it had bid too aggressively on some contracts from local authorities and housing associations, meaning it had won them at a price at which it could not possibly make a profit.
Cherry picking
Morgan Sindall's share price jumped by 18.5% at one point on Friday morning on the news of the acquisition, but then fell back to stand 9.6% higher.
It means the company's value has rallied more than 40% in the past two weeks, as its rival collapsed.
KPMG confirmed that the deal with Morgan Sindall had been "a cherry-picking exercise", with the building firm buying what it perceived to be the highest value contracts, although KPMG said they were still talking to other potential buyers about the remaining contracts.
Morgan Sindall said that the new contracts would add about £200m to its annual revenues.
The buyer said that it would pay for the acquisition out of its existing cash reserves, meaning that it would not have to borrow the money.
"Our focus now will be to ensure a smooth handover of the contracts and to minimise disruption to essential maintenance services," said John Morgan, the construction firm's head.