Bust Buckfastleigh building firm 'owes £2.5m'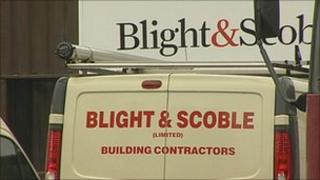 A Devon-based building firm which has gone bust owes more than £2.5m, its liquidators have confirmed.
Blight and Scoble, based in Buckfastleigh, ceased trading in August, costing 50 jobs.
The company said its financial problems were caused by the difficult trading climate for property developers.
The liquidators, Bishop Fleming Chartered Accountants, said that nearly 300 creditors faced being out of pocket.
The building firm had been trading in the area for more than 100 years.
Company supplier Brunel Road Timber Ltd is owed about £9,500.
Brunel's owner, John Western, said the potential loss to his company was "a big number and it does hurt".
He said: "They were quite a big customer and now we've got to try and replace those sales and somehow overcome losing that amount of money.
"We're not expecting to get anything back. Experience tells us that's the case, so it's a double whammy for us."
The liquidators said they were doing everything they could to maximise Blight and Scoble's assets and get the best return they could for creditors.