Hundreds attend Plymouth south Asian festival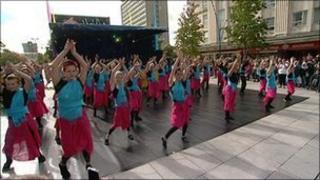 Hundreds of people have attended Plymouth's first ever south Asian festival, or mela.
The free event in Plymouth city centre was organised by the city's South Asian Society and the Barbican Theatre.
The word mela stems from a Sanskrit word meaning "to meet" and describes community celebrations and festivals in south Asia.
The festival included dancing displays, traditional music and stalls offering a variety of Asian foods.
About 100 performers took part during the four-hour event, which took place in the city centre piazza and the Drake Circus shopping mall on Sunday afternoon.
Organisers said they hoped the mela would allow people to gain a better understanding of different cultures within the city.
Anile Koshti MBE, one of the trustees of the South Asian Society, said: "It's one of the best ways of getting different cultures together and learning how to respect each other."