GMC rules Plymouth heart man Dr Motwani fit to practise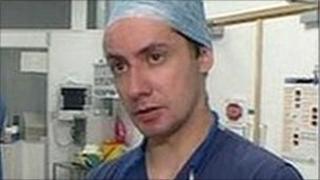 A heart specialist who carried out "inadequate, careless and unethical" medical trials is not unfit to practise, a misconduct panel has found.
However, the General Medical Council issued a formal warning to Dr Joe Motwani, saying he had fallen short of expected standards.
It also said he had taken steps to address his failings.
He was cleared of inappropriately performing heart procedures on patients at Plymouth's Derriford Hospital.
Dr Motwani said he was "very pleased" at the GMC's decision.
At the start of a five-month hearing, Dr Motwani faced charges relating to 33 patients, two clinical research trials and the misuse of a procedure he developed, called percutaneous coronary intervention (PCI).
The number of the charges relating to patients was later reduced to nine.
Failings 'remediable'
PCI was a procedure to clear blocked arteries by inserting a wire into a patient's wrist.
The panel said Dr Motwani had performed PCIs without conducting prior assessments, but it found there was no obligation for him to do so after testimony by a defence expert.
The hearing also found Dr Motwani failed to follow protocol during two clinical research trials, but it was clear he had addressed his failings and was willing to adopt the appropriate changes in his research practice.
The GMC panel concluded the failings were "remediable" and said it was satisfied that such failings were unlikely to be repeated.
As a consequence, it said Dr Motwani's fitness to practise was "not now impaired by reason of misconduct".
In its final determination, the panel imposed a formal warning, saying failures had been found and Dr Motwani's conduct did not meet the standards required of a doctor engaged in clinical research.
"It risks bringing the profession into disrepute and it must not be repeated," the warning said.
'Honest mistakes'
"The required standards are set out in Good Medical Practice and the associated guidance on research.
"Whilst these failings in themselves are not so serious as to require any restriction on your registration, it is necessary to issue this formal warning."
In a statement, Dr Motwani said he was grateful to the panel for dismissing allegations of poor clinical care.
"I have always had as my foremost priority the provision of the best possible care to my patients," he said.
He said the errors made in the conduct of his research had been "honest mistakes" and he would "do my utmost to ensure that all my future research is conducted to the highest possible standard".