Five rescued after rowing boat capsized off Exmouth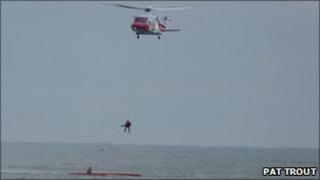 A rescue helicopter was launched in Devon after a rowing boat with five people on board capsized off Exmouth.
Portland's coastguard rescue helicopter and Exmouth's coastguard rescue team and inshore lifeboat were launched at about 1110 GMT.
Three people were winched from the sea by the helicopter and two others were taken ashore by lifeboat.
All five were flown to the Royal Devon and Exeter Hospital on Sunday to be treated for mild hypothermia.
Brixham Coastguard watch manager Andy Huber said: "Only two of the five people rescued were wearing life jackets, although there were other life jackets in the boat.
"The water temperature today was 12 degrees with choppy seas, and in conditions like these it is not long before hypothermia sets in and without a life jacket you will find it difficult to keep afloat."