Gritting lorry driver injured in Devon has surgery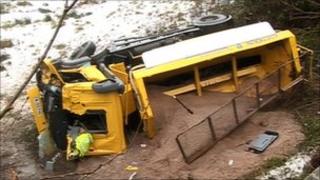 A gritting lorry driver has undergone surgery after being injured when his lorry plunged 30ft (9m) down an embankment in north Devon.
The vehicle overturned after skidding on black ice on Saturday.
Anthony Jury, 49, was airlifted to the Royal Devon and Exeter Hospital after a metal spike pierced his leg.
A hospital spokesperson said he was in a "stable condition" and in "good spirits."