Commando ropes keep Paignton Zoo gorillas swinging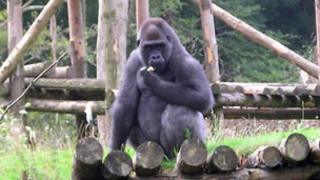 Primates from a Devon zoo have been swinging on climbing ropes used by Royal Marines in training.
Sgt Sam Sheriff, a physical training instructor from Torquay, donated the ropes to Paignton Zoo for its gorillas.
The ropes included a 60ft (18m) length from an outdoor commando slide for recruits.
"The marines replace their ropes regularly - it's good to be able to pass them on to a place where they will get more good use," Sgt Sheriff said.
Paignton Zoo spokesman Philip Knowling said, like orangutans, gorillas use the ropes to swing, just as they would use tree vines in the wild.
"These ropes will help us to create a three-dimensional space for them to swing, play and chase," he said.
The climbing ropes will be used inside and outdoors on the zoo's "adventure playground".
'Like four hands'
Sgt Sheriff, who is currently based in Arbroath, Angus, with 45 Commando, is preparing for a 3,000ft (900m) charity rope climb to raise money for a Royal Marines memorial garden.
Studying the Western lowland gorillas at the zoo had given him a few tips, he said.
"Gorillas have the advantage of being able to grip with their feet - it's like having four hands.
"I will be sticking to the traditional climbing method, using my knees to move with a caterpillar-like motion up the rope.
"But gorillas also use straight arms a lot which saves muscle energy and I can use this technique when lowering myself to the ground."