Warning over rural crime increase in Devon and Cornwall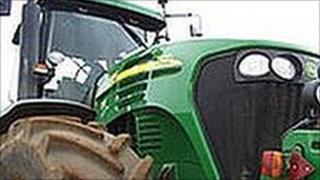 The theft of machinery and tools from farms in Cornwall has risen by more than 20% despite a fall in burglaries nationally of 9%.
Police admit the problem is difficult to combat in Devon and Cornwall but say the main focus should be on prevention.
Peter Stretton, who had tools worth £9,000 stolen from his workshop, said he was "extremely worried".
Devon and Cornwall Police said one tractor was eventually traced to Cyprus.
'Recovery operations'
Although the figure for rural crime in Cornwall is more than 20% over the last two years, the figure for Devon is less than 1.5%.
PCSO Jonathan Simms said he did not believe items were being stolen to order but "the key thing to emphasise is crime prevention".
He said the force was keen to use e-mail and mobile phone warnings to keep farmers and others living in rural communities aware of suspicious individuals or vehicles.
Mr Stretton, who runs a workshop near Tiverton, said he had seen evidence of thieves being "very selective" about the items they took.
NFU Mutual chief claims manager John Kenny said: "Rural crime, particularly the theft of very expensive tractors for export, has become a major problem costing an estimated £42m in 2009."
In what is believed to be the first partnership of its kind, a police vehicle security specialist is working with the company to allow police and insurance investigations to be conducted simultaneously.
Det Chief Insp Mark Hooper, from the Association of Chief Police Officers, said: "Close co-operation between the police, tractor manufacturers, and customers is essential to tackle criminals who are targeting farm machinery."
Mr Hooper, who heads the vehicle crime intelligence service, said it would enable "recovery operations to be launched very quickly and co-ordinated through police, ports and international police force via Interpol and Europol".