Fears over Canadian lobster threat to native species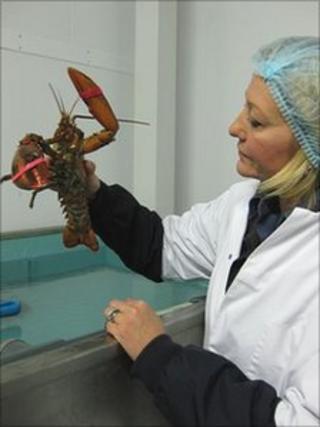 Fisheries groups have raised concerns about the escape of Canadian lobsters into waters off the Devon coast.
Thousands of kilos of the species are imported every year but some have recently been caught with their restraining bands still on.
It is thought they have escaped from badly maintained lobster pots.
Conservation groups are concerned that the Canadian lobster may be carrying bacteriological infections which could kill or endanger native species.
Devon Sea Fisheries officer Sarah Clark told BBC Radio Devon that a number of local fishermen had reported catching Canadian lobster.
The presence of the restraining bands meant they were probably being kept in pots in the sea before being sold to retail outlets.
Miss Clark said: "If they are released into our wild population they do carry a disease which can lead to fatalities within our own lobster population."
Paignton-based fish merchant Les Daniels said they were using up to 300kg a week of the Candian lobster because of the lack of availability of native species.
He said his industry would be "very concerned" about the Canadian species affecting the local varieties.
"If these little critters get out there and start diseasing our stocks it's going to impact on our fishing industry," he said.