Paignton Zoo's fears for new-born giraffe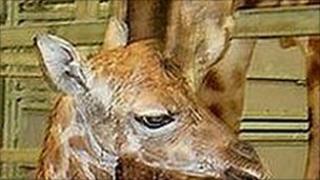 A new-born giraffe is having to be bottle-fed, raising fears for his survival at a Devon zoo.
Kito was born unexpectedly at Paignton Zoo on 10 January but his first-time mother Sangha is not suckling the calf sufficiently.
Keepers are now using bottles to help keep his weight up, and video cameras are being used to monitor the pair.
"We need Sangha to step up and get used to the idea of being a mother," said Phil Knowling, from the zoo.
"He has been having his ups and downs, I think it's fair to say. He's not as strong as we would like and he was smaller than normal when he was born," Mr Knowling told BBC Radio Devon.
Kito is a Rothschild giraffe and the species is classified as being endangered.
Curator of Mammals Neil Bemment said: "Kito was sprightly enough to take his first steps outdoors on Tuesday morning.
"But by around 5pm he appeared weak. The vet gave him fluids intravenously and by stomach tube and keepers gave him some milk."
He said Kito appeared "much better" when they left him about three hours later.
But Mr Knowling said they would continue to monitor the situation round-the-clock.
"We will be keeping a close eye on him to see how it goes," he said.