Plymouth woman 'pulled son away from gunman'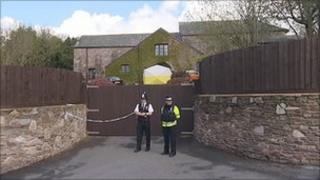 A Plymouth woman grabbed her son away from a gunman who shot her husband at their home, a court has heard.
Car dealer Colin Pester, 63, was seriously injured in the 2008 shooting.
Helen Pester-Johns told Plymouth Crown Court she grabbed the seven-year-old because he was being pushed between two men attacking her husband.
Gary Ball, 45, from Beacon Park Road, Plymouth, and Mark Gagen, 42, deny robbery, causing grievous bodily harm and possession of a firearm.
Mrs Pester-Johns told the court how two men in balaclavas burst into the house in Whitleigh on 30 April 2008.
She said her son, Jack, was screaming after her husband staggered backwards after being shot and that he was pushed between the two men in the hallway.
Mrs Pester-Johns said she grabbed the boy to try to get him away from the attackers, but added they were both dragged upstairs by the men who were looking for jewellery while the wounded Mr Pester lay on the floor.
Afterwards, she ran outside screaming to neighbours to get help to look after her son because did not the boy to see his father lying seriously hurt.
The trial continues.