Devon County Council closing branch register offices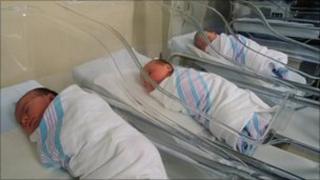 Plans to close all register branch offices in Devon to save money has prompted anger and concern.
The satellite branches across the county allow people to register births, marriages and deaths.
Devon County Council said closing the offices, which are underused, will save £43,000.
But people living in the county's more rural area have said they will be forced to travel further for registration services.
Branches at Ilfracombe and Teignmouth were closed last year, while the remaining outpost offices in Cullompton, Crediton, Kingsbridge, Ivybridge, Axminster, Sidmouth, Holsworthy and Teignmouth will close on 31 March.
Christine Marsh, who lives in Ashwater, discovered her local office in Holsworthy was closing when she went in to register her mother's death.
"Everyone I talk to is worried about bus services, library services and heath services," she told BBC News.
"Then we found out the register office was closing too... it's like if you don't live in a town nobody's bothered about you."
The council said an exercise carried out over the past year showed satellite branches were underused.
"We found out the utilisation of the outpost offices is decreasing while the costs are actually increasing," Councillor Roger Croad said.
Travel 'not unreasonable'
He described the current system as "rather inefficient", with registrars doubling up on the work they do - collecting details at the satellite branches and having to input the same data after returning to the main offices.
The council said the average person will not need to use the registration service on a regular basis, so asking customers to travel a maximum of 30 miles (48km) to one of its eight main district offices was "not unreasonable".
It added that the introduction of the government's "Tell Us Once'" service would reduce the stress and anxiety associated with registering a death.
The one-stop service is used to inform all the relevant authorities and government departments that need to know about a death.