Royal Marines and Commando troops train for Afghanistan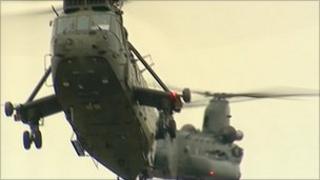 Hundreds of South West troops have been taking part in field training before they deploy to Afghanistan.
Royal Marines and Army Commandos from 3 Commando Brigade, together with soldiers from 1 Rifles, are on exercise on Salisbury Plain.
Task Force Helmand 14 is a six-month tour of duty which starts in March in Helmand province.
Plymouth-based 3 Commando Brigade lost 33 men when it led British operations in Afghanistan in 2009.
British troops are due to end combat operations in Afghanistan in 2014.
Michael O'Neill, of the Helmand Provincial Reconstruction Team, said British losses had not been in vain.
"We have seen a huge amount of progress," he said.
"We need to consolidate and deepen it and there are still challenges.
"But if we can make the kind of progress that we have had in the last 12 to 18 months, I believe that over the years to 2014 there's a huge amount more we can do."