Chinese New Year festival for new university building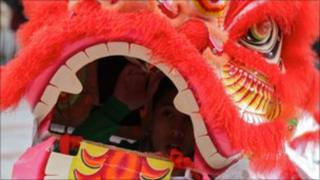 A festival to celebrate Chinese New Year has been held to mark the completion of an £18m university building in Devon.
The new business school is part of a £25m investment to improve facilities at the University of Exeter.
A traditional dragon and lion parade formed part of the free festival, organised by the Chinese Student Scholars Association (CSSA).
Festival visitors tried their hand at making traditional Chinese dumplings.
Yuting Bai, CSSA president, said the New Year was an important occasion and the event not only provided a taste of home for the Chinese students but allowed the sharing of their culture and traditions.
In the Chinese calendar, 2011 is the Year of the Rabbit.
The new university building will be formally opened in the spring.