Teignmouth anger at 'unfair' parking charges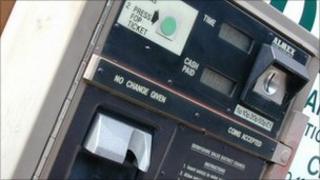 Traders in Teignmouth say proposals for increased parking meter charges are unfair while other Devon towns have no meters.
Teignmouth faces a 10% rise in charges at its parking meters from 1 April under plans by Devon County Council.
Local businesses say that will send shoppers to other towns where there are no meters.
The council said it was supporting local trade by not increasing charges for parking of up to 30 minutes.
The increased charges are due to be considered by the council's cabinet on 9 February.
'Harmonise charges'
David Cox, Deputy Mayor of Teignmouth, said: "When the meters were put in we were told every town in Devon would have them.
"That is clearly not true and it is a bit unfair.
"Teignmouth is being used as a cash cow by the county council."
In January, Devon County Council dropped plans for meters in 10 towns including Dartmouth and Sidmouth after getting about 4,400 objections.
Teignmouth shopkeepers say increased parking charges will send shoppers to meter-free towns.
Andy Robinson, Chairman of Teignmouth Traders Association, said: "It is putting our traders at a competitive disadvantage to other coastal towns in Devon.
"Ten per cent might not seem a lot but in the current economic climate it will have an adverse effect on people coming into the town."
Stuart Hughes, the county council's cabinet member for highways, said in a statement: "In recognition of the current economic climate and to support local trade, no increase will be made to on-street town centre parking available for short stays (i.e 30 minutes).
"Changes are proposed to harmonise on-street parking charges with that of Teignbridge District Council's off-street parking charges."