What's on in Devon this week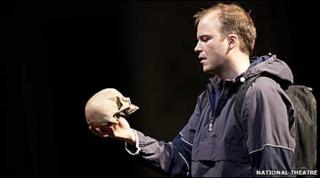 From a new production of Hamlet, dressage and mulching workshops: some suggestions of things to do in Devon this week.
Outdoors and events
Why not go to the National Trust's Saltram House just outside Plymouth to join a mulching workshop on 11 and 25 March 2011.
Join the gardening team as they mulch the beds at Saltram, learn why it is so important and what mulching can do for your own garden - come prepared to join in. Cost £5.
Booking is essential - for more information call the office on 01752 333503, or email saltram@nationaltrust.org.uk.
Like that? Try these ...
Letterboxing at East Dartmoor National Nature Reserve from 10am until 12 on 12 March 2011.
Dartmoor is famous for its letterboxes - secret messages and stamps hidden around the tors.
Clues have been hidden around the reserve - follow the clues and try to discover them all. This is a family friendly event where you will walk about 1.5 miles.
For more information contact the reserve on 01626 832330 or check the Natural England website. Meet at Yarner Wood car park, off the Bovey-Manaton Road on the way to Becky Falls.
There is a British Dressage event at Bicton College at Budleigh Salterton on 12 and 13 March 2011. For further information visit the Bicton College website.
Music
The Vaughan & Philip Big Band Play to the Moon at Gallery 36 in Exeter on 12 March 2011.
A somewhat experimental evening of music, songs, video and art - Vaughan Gallavan and Philip Robinson will sing and play some well-known and well-loved "moon" songs, using a selection of unusual musical instruments from various parts of the world, with Tony Walker's video projections inspired by the allure of all things lunar.
There will be two performances, at 7.30pm and 10pm. To book call Veronica on 01392 256206. Tickets cost £5 and please bring an indoor picnic.
Like that? Try these ...
Geoff Gascoyne brings his own personal touch to some well-known pop songs from the past 30 years. Work by Diana Ross, Cat Stevens and Take That, among others, has been rearranged for jazz quartet by this highly-acclaimed musician performing on 11 and 12 March at two village halls in north Devon. For more information visit Beaford Arts.
Geoff has an enviable pedigree in the jazz world as bass player, composer and arranger, a familiar face on the London jazz scene in the 1990s and as a tutor at the Royal Academy of Music. He toured the world with Everything But The Girl and for the last six years has worked with Jamie Cullum.
Lau, described as this generation's most inventive folk band comes to Dartington Arts for an exhilarating performance of cutting-edge material on 16 March 2011.
Winner of Best Group in BBC Radio 2 Folk Awards 2008, 2009 & 2010 and winner of Best Live Act Scottish Traditional Music Awards 2009 Lau will be supported by South West Music School student Declan Miller.
Arts
The Tourist, the first UK solo show by London-based artist Tim Ellis, will be at Exeter's Spacex gallery on 12 March until 30 April 2011.
The exhibition includes a series of new paintings and sculptures which directly respond to the gallery spaces and on 12 March 4pm there is a free artist talk.
Like that? Try these ...
The Bunker Project at Salcombe is an exhibition of painting, sculpture, film, textiles, ceramics, photography and installation.
The exhibtion runs from 11 until 19 March 2011 and includes work from Steve Baddeley, Rob Burden, Ian Carr, Mick Cartwright, Sara Downham Lotto and Graham Fish.
Theatre and entertainment
Following his celebrated performances at the National Theatre in Burnt by the Sun, The Revenger's Tragedy, Philistines and The Man of Mode, Olivier Award-winner Rory Kinnear plays Hamlet.
This new production comes to the Theatre Royal Plymouth direct from its London run and is on until 12 March 2011.
You can also keep up with goings-on behind the scenes at the theatre with the backstage blog.
Call the box office on 01752 230440 for more details.
Like that? Try these ...
In her debut solo show Opposition vocal gymnast and award-winning writer Hannah Silva uses multiple art forms to dissect and parody political language, revealing the meaning, music and meaninglessness beneath the rhetoric of today's (big?) society.
Her show is on at the Barbican Theatre, Plymouth on 11 March 2011 as part of the Flourish project.
At the Princess Theatre, Torquay Strictly Come Dancing's Craig Revel Horwood directs a new staging of the musical Chess.
A cast of seasoned West End performers including James Fox, Shona White, Daniel Koek and Poppy Tierney lead a cast of 30 actors and musicians in the production which opens on 15 March and runs until 19 March 2011.
Dartmoor-based MED Theatre will be premiering and touring No Access, written by a team of Dartmoor writers to moorland village halls and community venues in March.
When Dartmoor farmer Edgar Bampton decides to fence off a part of his land that had previously been indistinguishable from the heath and woods and rocks of the open moor, he divides his family and the community.
How should the precious resource of land be used? How do we reconcile access with stewardship? No Access is a contemporary comedy about conflict over land use.
From 12 March until 19 March 2011 at a number of Dartmoor venues, for more information and to book tickets, please contact MED Theatre on 01647 441356 or email info@medtheatre.co.uk.
Find more suggestions