Devon post-punk band Silent Routine making a big noise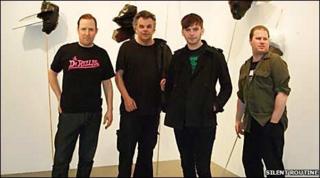 Nick Ridgway is the brains behind Devon band Silent Routine which formed just over a year ago and boasts a respected pastry chef and hairdresser among its ranks.
But if Nick has his way the heads of Torquay may have to be shorn by someone else and the Livermead Hotel's pastry will have to be created by another chef.
Nick has big plans for the band which he describes as "post-punk with pop sensibilities".
Made up of Nick on bass, 23-year-old hairdresser Jamie McGuiness on vocals, guitarist Phil James and pastry aficionado Andy 'Copey' Copelin on drums, Silent Routine have recently recorded four tracks in Plymouth.
"We went to Plymouth Music Collective and worked with Doc there and recorded all four tracks in one day for £100, it was great.
"We formed in a week and we write really well together - one of our songs - Suzanne - we wrote in five minutes!"
Nick even came up with name for a band, a task which took some time as every name they plumped for was already taken.
"It was quite a slog, everything we came up with had already been taken - eventually I came up with Silent Routine, a term to do with submarines.
"It's better than John Paul Gaultier and the Goat Herders which was one if my ideas!"
So the plan at the moment is to increase the number of local gigs and Plymouth-based Nick wants them to get a point where they can support some big name bands.
"I think the material we're writing now is really good and it would be great to get some national coverage for it," said Nick, who used to work as a roadie at the Brits.
'Quality music'
"It's hard to get gigs outside Devon but we have one coming up in Bristol and my ideal would be to organise a small-scale tour of Europe."
So if Nick could engineer his dream scenario who would he want the band to support?
"Nick Cave," he replies, without hesitation. "Or UK Subs or The Damned.
"It will be interesting to see where we end up in our quest, we're just making quality music and working hard at it and I think that quality will get us through."
Listen to Silent Routine here.