Protest march over Brixham Coastguard cut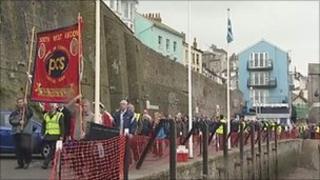 More than 200 people have taken part in a protest march in Devon over plans to close its coastguard station.
Under proposals to cut the UK's stations from 18 to eight, Brixham will be shut. In neighbouring Cornwall, Falmouth will end 24-hour cover.
Protesters said any cuts would mean a loss of important local knowledge.
The Maritime and Coastguard Agency (MCA) said it was willing to hear people's views. A consultation on the plans has been extended by six weeks.
'Highly professional'
The MCA plans to move operations to a new centre in Portsmouth.
It said modern technology meant coastguard stations did not have to be close to rescues any more.
It is believed the move will save about £7.5m a year and see up to 250 job losses nationwide by 2014.
Brixham Coastguard dealt with 1,300 incidents in 2010 and co-ordinated the rescue of 300 people.
Independent town councillor Vic Ellery said the march, from the town quay to the coastguard station, was organised to give local people a chance to voice their anger.
He said: "To me, you cannot beat knowledge and highly professional people in the coastguard station looking after us at sea."
The MCA was holding a public meeting at Brixham Community College on Thursday evening to debate the proposals.
Meanwhile, the 24 March deadline for submissions to a public consultation has been extended for six more weeks until 5 May.
Transport minister Mike Penning said he had already received more than 1,000 submissions from across the county.