Efford Gypsy site plan revived as Derriton plan shelved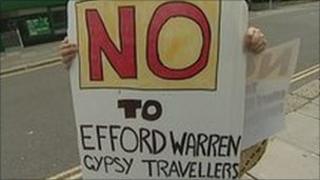 Plans for a Gypsy and traveller site in Plymouth could be revived after another scheme for Devon fell through.
Torridge District Council looks set to return £800,000 it got from the government for a failed project at Derriton, near Holsworthy.
Other councils can bid for the cash and Plymouth City Council has already been in talks about its plans for a site at Military Road in Efford.
But Efford resident Jean Northey said local people will object again.
Ms Northey told BBC News when travellers occupied the site several years ago there were "difficulties" between them and local people.
"I don't really think it's the right site for them," she said.
"They've got to have somewhere to live the same as anyone else - I'm not against them - but I don't think Efford is the place."
In 2009 when the city council first announced its plans to build a 10-pitch travellers' site on disused council land at Military Road in Efford Warren, it received more than 200 letters of objection and a 1,000-signature petition against the plans.
Torridge District Council said although its plan for Derriton was finally over, it was looking for other sites.
In a statement, the council said: "Councillors have decided to pay the grant money back before the deadline as the government has said if Torridge does this, the money will be used for another scheme within the county.
"Torridge is still conscious of its responsibilities towards the gypsy and traveller community and is currently looking at other potential sites."
Sally Woodbury, the Devon spokeswoman for the National Federation of Gypsy Liaison Groups, said councillors have the same duty of care for gypsies and travellers as they have for the settled community.