Derriford's infection team win patient safety award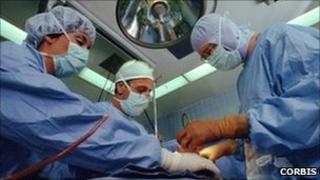 The South West's biggest hospital has won a national patient safety award.
Derriford Hospital in Plymouth took the top prize in the infection control and hygiene category of the 2011 Patient Safety Awards.
The awards, by the Health Service Journal and the Nursing Times, recognise the best examples of work across the NHS to improve patient safety.
Derriford won because of its surgical site infection surveillance service.
The national award has been welcomed by Plymouth NHS Hospitals Trust which was recently warned by the Care Quality Commission it could risk prosecution if it did not improve safety.
The warning was issued after four incidents in which swabs were left inside patients who had undergone surgery.
Dr Peter Jenks, director of infection prevention and control, said the surveillance service involves assessing surgical site infections on a quarterly basis.
As well as participating in a national scheme run by the Health Protection Agency (HPA), Derriford's service also covers non-compulsory areas and surgical procedures, such as breast surgery.
Plymouth Hospitals NHS Trust is one of a few trusts in the UK which continues to carry out surveillance after patients are discharged from hospital.
Dr Jenks said winning the award was recognition of the investment and effort that had gone in to infection control at Derriford.
"It is wonderful recognition for the people who do the really hard work and I am so very proud of my colleagues and the work that they have done," he said.
The trust's chief executive, Paul Roberts, said the national accolade had been achieved through the hard work of every member of the infection prevention and control team.
"The results they are delivering are crucial to improving patient safety and now as a team they have received public credit for the exceptional work that they do," he said.
According to figures from the Health Protection Agency, the overall rate for infections for surgical procedures at Derriford have been consistently lower than the national average over the past five years.