Attack victim tortured with iron in Devon flat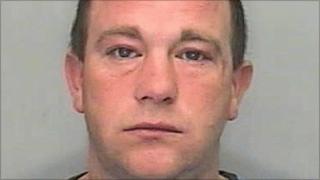 A woman was subjected to hours of violence and torture by three women and a man, including having an iron pressed against her face, a court has heard.
Louise Hewitt, 26, was repeatedly punched and kicked, plates and a chair were smashed over her head and her ear was slashed with a knife.
Karl Cook, Mary Willoughby and Kelly Taylor were each jailed for eight years while Lisa Hill will serve three years.
Judge Graham Cottle told Exeter Crown Court their violence "beggars belief".
'Child-like'
As they were sentenced, Ms Hewitt, who was described in court as having "extremely significant learning difficulties", said: "Thank God for that."
Inspector Jonathan Phillips, from Devon and Cornwall Police, said: "This was an horrific incident where four heartless and cruel individuals assaulted and imprisoned a defenceless female who is vulnerable.
"The victim will have permanent scarring but has started her long journey to recovery."
The court was told the violence began in September 2010 when 38-year-old Cook, who had been drinking and taking drugs, encouraged his girlfriend, 22-year-old Willoughby, to "beat her up for me".
After violence lasting several hours, Ms Hewitt was taken to another flat in Torquay where she was attacked by Hill and Taylor.
Sean Brunton, prosecuting, said the iron was deliberately pressed against the face of a woman who was "extremely vulnerable, keen to please, and child like".
The court heard Ms Hewitt subsequently needed specialist treatment at the burns unit of a hospital in Bristol.
Willoughby, of Lymington Road, and Taylor, 27, of Upton Road, both Torquay, admitted wounding and false imprisonment.
Lisa Marie Hill, 26, and Cook, both of Upton Road, admitted assault and false imprisonment.
Judge Cottle said: "It was sustained period of torture meted out to a completely defenceless and vulnerable victim."