Noise concerns over Tesco gravel pipe in Seaton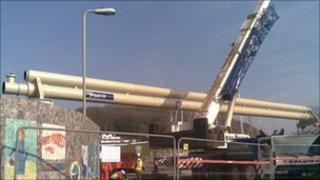 Residents in a Devon seaside town have raised concerns about noise from a gravel pipeline to a new Tesco store.
Three hundred thousand tonnes of gravel will be transferred from a ship to the site at Seaton.
Tesco originally planned to bring in the gravel by lorry, but dropped that plan after objections from local people about traffic noise.
Tesco insists that the noise from the pipe will be no louder than "polite conversation".
Construction has started on the pipeline to bring gravel ashore from a ship 1,500m offshore.
The operation to raise the level of the site is expected to last four to six weeks.
James Semple, chairman of action group Tescowatch, said: "We are quite seriously concerned about the noise.
Double skinned
"Tesco and East Devon District Council are not taking the issue seriously enough."
Tesco has predicted that the noise will be "comparative to that of polite conversation on the decibel scale".
The pipeline would also reduce the time it takes to raise the land.
Juliette Bishop, Tesco corporate affairs manager said: "As with any undertaking of this nature, we understand that there will be a degree of apprehension from those living nearby, but we have undertaken detailed survey and preparatory work to ensure that these apprehensions do not become a reality.
"If residents living near to the proposed pipeline have any specific concerns that they have not already discussed with us, we would encourage them to contact us."
Councillor Steph Jones, from East Devon District Council, said the pipeline was double skinned to reduce noise.
Environmental health officials would be on site to monitor noise and ensure it was within levels agreed at the planning stage, she said.
"People with concerns about noise can raise them with the environmental department.
"I can't foresee too many problems.
"We need something to regenerate the economy of the town and I'm looking forward to it opening in November."