Devon watersports event needs £50k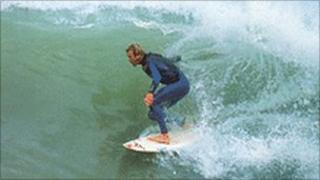 North Devon could host an international watersports event if £50,000 can be secured before the beginning of April.
Croyde, Bideford and Westward Ho! are being considered as venues for the Atlantic Watersports Games, an event for surfers, sailors and kayakers.
The development agency North Devon+ is appealing for pledges from local businesses and said the event could provide £14m for the local economy.
The games are scheduled to take place at the end of July.
Laura Holt, from the agency, told BBC News: "It'll put north Devon on the international map for watersports."
Commercial director of North Devon+ Robin Makeig-Jones said: "Securing sponsorship is central to delivering the Games.
"For every £100 in sponsorship that we receive from local businesses, we can access £100 from Sport England which then allows us to bid for EU funding equivalent to £371. It is important that local businesses come forward and back us now."
In previous years the event has been held in Spain and Portugal.
Mrs Holt said the event was going to be held in Wales, but budget cuts forced them to withdraw, making north Devon a candidate.
The Atlantic Watersports Games are for competitors under the age of 21 and events include surfing, sailing and kite surfing.
If successful, the BBC understands venues that could host the events include, Roadford Lake, Bideford, Westward Ho! and Croyde.