Plymouth service remembers Blitz victims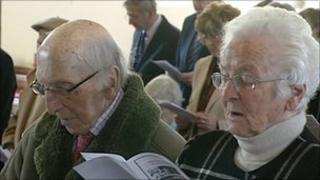 A special service of remembrance has been held in Plymouth to mark the 70th anniversary of the Blitz.
Four nurses and 19 children died when Plymouth hospital's maternity ward was hit by German bombs on 20 March 1941.
The bombing was among many received by the port of Plymouth during World War II.
A service was held at Minster Church of St Andrew, which was destroyed during the Blitz.
Devon and Cornwall airfields and Falmouth docks were also targeted by German planes in the summer of 1940.
The Reverend Nick McKinnel, rector of St Andrew's, said: "We hope these services will give people a time to reflect on the tragedy and loss of life, but also to give thanks for peace between former enemies and to remember the many acts of courage, kindness and hope from those days.
"The bombing of the city, particularly the raids during those nights of 20 and 21 March 1941, transformed the appearance of our city beyond recognition and have left an indelible mark on the lives of those who lived through it."
Plymouth Mayor Mary Aspinall will be joined by children from city schools, survivors of the bombing and members of the public for a civic service at the church on Monday.