New Langage power station an 'energy milestone'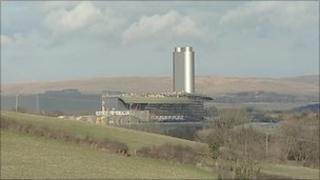 A new gas-fired power station near Plymouth is an important energy security "milestone", according to the government's energy secretary.
Charles Hendry, minister for Energy and Climate Change, has officially opened Langage Energy Centre in Plympton.
The £400m plant is already operating, supplying electricity for about a million homes across the South West.
Its operator, Centrica, said it had the lowest CO2 emissions of all its gas-fired power stations.
Mr Hendry said: "Gas-fired power stations such as Langage have a major role to play as part of the balanced energy mix we want to see for this country.
"The power station marks an important milestone in advancing the UK's energy security."
Mark Hanafin, managing director of Centrica Energy, said: "Langage is representative of Centrica's commitment... to ensure secure power and gas supplies for UK homes and businesses.
The Langage power project began in August 2004.
In 2009 concerns were raised when one of the plant's turbines was fired up for the first time, engulfing local homes in smoke.
But Centrica said at the time that the smoke was not hazardous.