Derriford hospital's plan to buy Cyberknife is reviewed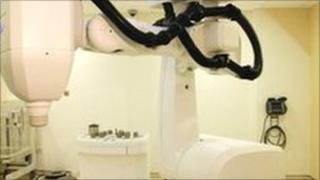 A Devon hospital's plans to buy a £2.2m robot radiotherapy machine to treat cancer may be put on hold.
Derriford Hospital in Plymouth had hoped to become one of the first UK hospitals to use the Cyberknife.
But Plymouth Hospitals NHS Trust, which has to make savings of £27.5m, said the purchase would now be reviewed at its budget meeting on Friday.
The machine directs high dose radiation beams at tumours using a robotic arm.
As well as the £2.2m cost of the Cyberknife, the hospital would also have to build a radiation-proof room, costing £1.4m, to house it.
The machine is used on patients for whom surgery might be difficult, for example those with brain tumours, lung, prostate and pancreatic cancers.
It enables doctors to target tumours with greater accuracy to reduce damage to healthy tissue.
At the moment, patients needing to use it have to travel to the South East.