Thieves steal catalytic converters in Devon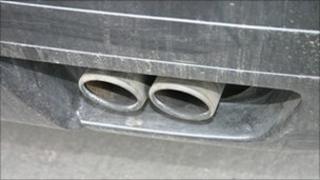 Police in Devon are investigating a number of thefts of catalytic converters from vehicles in the county.
Officers said they believed the exhaust systems were being targeted to be sold on because of precious metal inside them, including platinum.
Two charities in the east of the county have been victims.
Sidmouth Voluntary Services said its minibus was off the road after a theft. A minibus from the Sidmouth Living With Cancer Group has also been targeted.
'Just despicable'
Larger vehicles - such as minibuses, vans and 4X4s - have been targeted due to their higher road clearance, police said.
The Living With Cancer Group said its minibus was brand new and that members were devastated.
Group founder Bill Lankester said: "I think it's just despicable.
"Our minibus has got the word 'cancer' written all over it. How can anybody can take it from a vehicle like that?
"I don't think they realise how often it's used and its importance to the local community."
Pc Mark Humphries, of Devon and Cornwall Police, said the thefts were down to the scrap value of metals inside the converters - including platinum - but also other metals such as rhodium and palladium.
He said: "It's precious metals in general. There's a shortage of them and opportunists are taking advantage of poor security."
He said vehicle owners should increase the security on vehicles, such as keeping them locked away, or consider installing cages around the converters to protect them.
He added that marking kits were also available which could deter thieves because it meant any stolen property could be identified.