Dartmouth Apprentice restaurant's training grant fears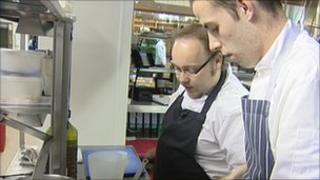 A Devon restaurant that trains young unemployed people has raised concerns about a change in government funding.
The Future Jobs Fund (FJF) has guaranteed £6,000 per trainee at the Dartmouth Apprentice.
The FJF is due to finish at the end of March and will be replaced by the Work Programme in June, but restaurant managers fear they may not qualify.
The government said the FJF was too expensive and half of people on it went back on benefits.
The Dartmouth Apprentice opened in 2008 with the aim of giving young unemployed people training for a career in catering.
'Huge gap'
Managers estimate that the Dartmouth Apprentice has trained more than 50 young people in the last 18 months and that about 70% of those have gone on to work, either in catering or elsewhere.
The restaurant currently has 25 staff, 19 of them apprentices on the FJF.
The restaurant is applying for the Work Programme but has been given no assurance from the Department for Work and Pensions (DWP) that it will qualify.
Manager Nina Stanesby told BBC News: "It could leave a huge gap in our funding if we don't get on the Work Programme.
"I need that extra income and without that funding it's going to change things hugely."
A DWP spokeswoman said: "The Future Jobs Fund is expensive and the government believes that its increased apprenticeships programme is a much better way of getting young people into sustainable employment.
"Recent early analysis shows that half of people are back on benefits after completing their Future Jobs Fund job underlining that these positions were a short-term fix.
"Unemployed young people will get high quality support through the work programme which will be available nationwide by next summer."