Royal Navy's HMS Monmouth sets sail from Plymouth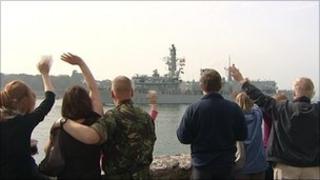 A Royal Navy frigate has set sail from Plymouth to take part in maritime security and counter-piracy work in the Gulf.
HMS Monmouth, a type 23 frigate based at Devonport naval base, will spend six months on operations.
The ship has a crew of 185.
A spokesman said they would be working closely with coalition forces to "counter terrorism, prevent smuggling and disrupt and deter piracy".
Meanwhile the Royal Fleet Auxiliary ship Bayleaf has sailed into Plymouth, completing its final voyage from Portland in Dorset.
The tanker is being retired as part of savings by the Ministry of Defence (MoD)
It was in service across the world for 29 years, keeping Royal Navy vessels supplied with fuel.