Protesters against cuts travel from Devon and Cornwall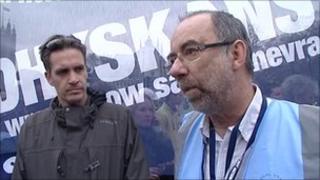 Hundreds of protesters from Devon and Cornwall have taken part in a national march in London against government spending cuts.
The first of dozens of coaches travelling from the South West left the Cornish village of Penhale at 0330 GMT.
The March For The Alternative was organised by the Trades Union Congress.
The government said it could understand public anger but it had to bring public finances "back into balance".
South West members of the National Union of Teachers carried a Cornish banner on the march reading: "Adhyskans ny wra trohow sawya nevra" (Education cuts never heal).
Speaking to the BBC during the march, Andy Woolley, the NUT's South West regional secretary, said: "We believe that there are communities already suffering.
'Rural deprivation'
"Local services are going to be hit, particularly in rural areas like Cornwall, where there's already a lot of rural deprivation.
"We want to make the point that cuts are hitting the South West."
He said even though some people had been travelling since 0330 GMT there was a "great spirit" amongst the NUT contingent on the march, which he estimated included about 400 people from Devon and Cornwall.
The Unite union sent 29 coaches from the South West.
Dave Springbett, Unite's South West organiser, said: "These people are marching because it affects them.
"We've got people from councils, from the private sector, from the public sector, everybody will be badly affected by these cuts."
He said Plymouth in particular had a very "high reliance" on public sector work.