Devon diver rescued with help of HMS St Albans dies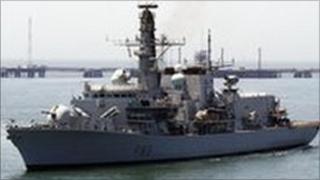 A diver who was rescued with the help of a warship off the coast of south Devon has died.
Brixham Coastguard said the 65-year-old man was pronounced dead on arrival at Dorchester Hospital.
The man had got into difficulties after making a "rapid ascent" from a depth of 60m (197ft) while diving near Salcombe on Saturday.
Nearby HMS St Albans responded to a mayday call made by the dive boat and he was airlifted to hospital.
HMS St Albans is a type 23 frigate based in Portsmouth.