Groups of tombstoners in Devon targeted by police order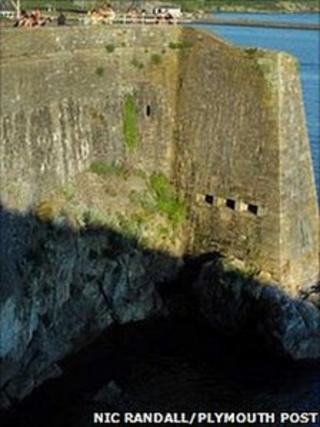 Police have been given powers to target groups of youngsters who leap from cliffs in Plymouth.
Granting the order, the city council said it would allow police to tackle anti-social behaviour associated with the activity known as "tombstoning".
From 9 April police will be able to force groups to leave areas near the Hoe and Barbican if they feel they could cause trouble.
The force said the order was for safety reasons and did not target youngsters.
Devon and Cornwall Police said they would have the powers to ban troublemakers from the area for 24 hours and arrest people who refused to leave.
A spokesperson said: "We are not focusing just on young people, we want the area to be a safe place for everyone to enjoy".
The council said most tombstoners were between 14 and 19-years-old and the associated anti-social behaviour included underage drinking, foul language and violence.
The council said the order would stop more serious crimes being committed as police would be able to disperse the groups.
Councillor Peter Brookshaw said: "Dispersal orders have been used with great success to combat and prevent anti-social behaviour.
"We want people to be able to visit and enjoy our city and waterfront areas without being harassed."
A spokesperson for Plymouth City Council said dispersal orders are about reducing all types of anti-social and risk taking behaviour associated with large groups.