Heddon College special school in Devon faces closure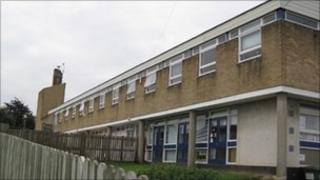 A north Devon special school is facing closure after the county council withdrew funding.
Devon County Council has been funding Heddon College in Barnstaple as a pilot project at a cost of £390,000 a year.
Heddon's students have conditions like Down's Syndrome, autism and speech difficulties.
But the council said it could no longer afford to fund the 30-pupil 6th form college, saying there was adequate provision at nearby Petroc college.
Heddon was created two years ago as part of Lampard Special School in Barnstaple which has pupils aged seven to 16.
Lampard head teacher Karen Rogers said: "The council has been really supportive and we knew it was a pilot, but it has been so successful.
"None of the students have dropped out. Attendance is very good. They are all online for achieving qualifications."
Petroc was "absolutely appropriate" for some students but others with more special needs might not be able to cope, she said.
'Experimental basis'
Louise Richards, whose daughter Jade has Down's Syndrome, said: "I really don't know how she would cope without Heddon.
"For me it would be a case of giving up work to care for her."
The Conservative-controlled County Council said it had agreed to help the college "on an experimental basis to see if such provision was viable".
But it had to cut £54.6m in the 2011-12 financial year and there was no money to continue.
It said: "The school was asked to stress to parents all along that there was no guarantee this would become a permanent provision."
An application for funding from the Young People's Learning Agency (YPLA) has also been rejected.
The YPLA said the application did not meet the criteria, "in particular, insufficient and incomplete financial information was provided".