MP Sheryll Murray warned husband about fishing alone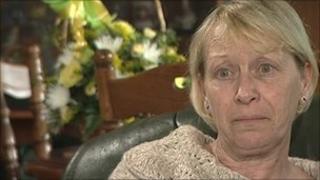 A Cornish MP whose husband died on a solo fishing trip has told how she had argued against him going to sea alone.
Sheryll Murray, MP for South East Cornwall, said her trawlerman husband Neil had been fishing alone for "economic reasons".
The body of Mr Murray, 57, was found on his boat, Our Boy Andrew, on 25 March about 25 miles (40km) south of Fowey.
The Marine Accident Investigation Branch is investigating what it has described as a "fatal accident".
Mr Murray had worked alone out of Looe Harbour for "six or seven years" said Mrs Murray.
"It was a decision that I argued very strongly against to begin with," she told BBC News.
"The condition of me agreeing that he could go to sea was that he didn't push really bad weather and that he would make sure that he reported in and spoke to other vessels whenever he could.
"That was the economic decision that he took."
Mrs Murray received a phone call from Looe coastguards as she returned home from making a speech in parliament about keeping coastguard stations.
Her husband had not returned by 1900 GMT on 24 March as he had told coastguards he would.
"They said all the lifeboats were out looking for Neil," she said.
"I knew in my heart of hearts it was going to be bad news.
"If he had been able to raise the alarm he would have done.
"He had all the modern technology aboard."
Mrs Murray, elected for South East Cornwall in 2010, said that her husband would be remembered as the "mainstay" of her life.
"Nobody will ever know just how much support my husband has given me over the years," she said.
"It will be summed up in one of the songs I am hoping we will play when we say our final goodbye to him, The Wind Beneath my Wings, because that's precisely what he was."
The couple have two children, Andrew, a marine electronics engineer, and Sally, an officer in the Royal Navy.
Mr Murray's funeral is due to take place on 8 April.