Free swimming in Plymouth costs council £55k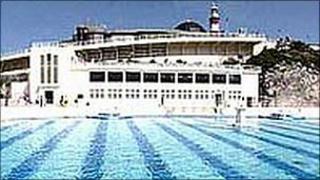 Plymouth's outdoor swimming pool is cancelling visitor admission charges costing the authority about £55,000.
Plymouth City Council said it expected to lose about £35,000 from income and incur an estimated £20,000 in extra staffing at the Tinside Lido pool.
In February the council said it would cut £10.6m from its 2011-2012 budget.
The authority said it hoped the scheme would benefit residents and visitors and help boost tourism in the area from the end of May to September.
Councillor Peter Brookshaw said: "We recognise the financial pressures many families are facing at the moment.
"We want as many people as possible to be able to enjoy the pool."
Council leader Vivien Pengelly said she hoped it would encourage more youngsters to go swimming over the summer holidays.
A spokesperson from the council said they would be reviewing other income opportunities that could help to compensate for the additional costs.
In 2010 adults paid £6.40 for an all day pass and children £4.25.