HMS Campbeltown sails into Plymouth for the last time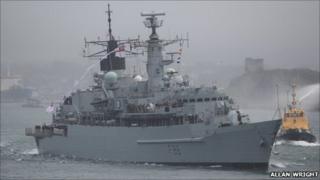 A Devon-based warship which is due to be decommissioned under government defence cuts has arrived at its Plymouth base for the last time.
Type 22 frigate HMS Campbeltown, which entered the Royal Navy's service in 1989, flew a special extra-long pennant as she sailed into Devonport.
Many of the 250-strong crew were on deck as the 150m (490ft) long vessel came into port.
Its official decommissioning ceremony will take place in April.
The current HMS Campbeltown is named after a wartime vessel which was deliberately blown up in a daring operation nearly 70 years ago.
HMS Campbeltown blew up along with the dry dock at the French port of St Nazaire in 1942 to prevent the port being used by some of Germany's greatest warships, including the Tirpitz.