Plymouth teacher Neil Dyer guilty of abusing pupils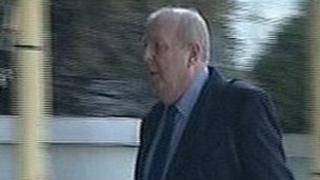 A former primary school teacher has been convicted of sexually assaulting a number of pupils in his care.
Neil Dyer, 71, from Plymouth, was found guilty of 25 counts of sexual assault between 1976 and 1992.
He carried out the abuse while he was the head teacher at Widey Court Primary School in the city.
Dyer, who was known as Geoffrey Burley at the time, was found guilty at Plymouth Crown Court and is due to be sentenced on 18 April.
He had denied the assault charges against 13 boys, one girl and one adult.
During the trial the court heard Dyer had run Widey Court school with a "rod of iron".
Crimes undetected
He worked as a teacher at the school before becoming deputy head and then head teacher.
The court heard he abused pupils sent to him for punishment by groping their bottoms and putting his hand down their trousers.
The assaults took place in classrooms, at home during private lessons and on school camps.
One boy was assaulted on his first night away from home.
Dyer's crimes remained undetected for 25 years until his former pupils swapped memories on Facebook and Friends Reunited.
He denied any assaults had taken place and said any physical contact he had with children was accidental and not sexual.
He said the only time he put his hand down a boy's shorts was when he tucked their shirt in.
But the prosecution told the court the number of complainants and the similarities between their stories meant they had to be telling the truth.
After the verdicts Judge Paul Darlow told Dyer a jail term was "inevitable" and remanded him in custody for sentencing on 18 April.
The jury were then told that Dyer had previously been jailed for theft against his school and had since been jailed for motoring offences.