Totnes Victorian murder mystery via mobile phone app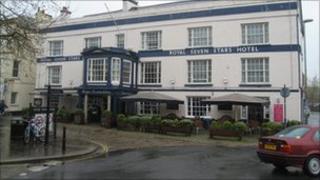 A group of drama students from Devon have used interactive mobile technology to tell the story of a local Victorian murder mystery.
Eliza Gepson, a 26-year-old mother of four, was found floating in the River Dart in Totnes on September 17 1866.
She was last seen on the evening before at the town's Oxford Inn.
Now, eight degree-level students from South Devon College have created Cold Case 1866, a "theatrical audio performance" based on Eliza's story and the hunt to find her killer.
The project is being overseen by Emma Whittaker, a lecturer in digital creative media at the college, who is carrying out research into interactive mobile technology.
She said the script, written by student Louis Brzozka, was inspired by an article about Eliza by historian Jill Drysdale.
She said: "We wanted to do an interactive narrative, so people had a choice how the story progresses, like a choose-your-own adventure story.
"We also wanted to write a location-based story with lots of different possible avenues.
"This story had so many good characters that offered those possibilities."
Scenes from the audio play are available to download via a smart phone app or as an MP3 file.
On Saturday 9 April the students will perform live at key locations in the story around Totnes.
These include the Mill Leat, where Eliza's body was found, the Lord Nelson pub, where bodies found in the river were stored in the cellar, and the Royal Seven Stars hotel, where the inquest was held.
At each location members of the audience will be expected to download and listen to the relevant scene and then interact with the actors to get clues to help them solve the mystery.
Ms Whittaker said: "Interactive stories offer a different kind of immersion in the story.
"It's as if it comes into your physical space. It meets the desire for virtual reality talked about today. Mobile technology as a group activity is a growing tool."
She said devising the story had been more complicated than a traditional "linear" one.
"It's all about how does it actually work on the ground? It's very practical."
She said the group wanted the audience for the performance to be as broad as possible, and said there was a twist in the tale she could not reveal.
"We're very excited about the performance, we want people to engage with it."