Browne's Chocolates in Okehampton saved by ex-Sharp's men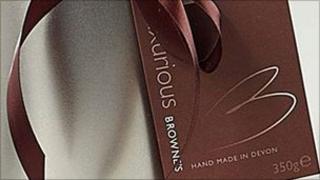 A Devon chocolate firm that went into administration has been saved.
Browne's Chocolates in Okehampton has been bought by the two men who transformed Sharp's brewery in Cornwall.
Joe Keohane and Nick Baker sold Rock-based Sharp's in January to Molson Coors in a £20m deal.
Ten of Browne's 20 employees have been re-employed and the buyers hope to take on more in the future as it negotiates new deals with retailers.
The firm, which supplied Harrods, has been in the town since 1993.
Spokesman Rupert Warwick said: "It was not a case that the product was not great.
"It was a cashflow problem that often affects small firms."
He said the two men wanted to grow the firm.
"It's a long-term investment. They certainly intend to expand and take on more staff in the coming months."
Okehampton has also been hit by the loss of 232 jobs at desserts firm Polestar, while 67 jobs went with the closure of the Robert Wiseman dairy.