Sidmouth residents' plan to save cliff homes from sea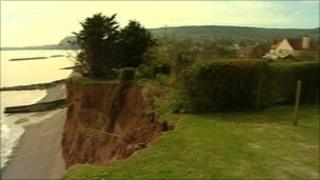 Residents of a Devon street who fear their homes could fall into the sea are calling for a £900,000 publicly-funded coastal protection scheme.
Twelve homes on Cliff Road, Sidmouth, are said to be losing land at up to 4m (13ft) a year because of erosion.
They are now submitting a planning application with East Devon District Council (EDDC) to tackle the problem.
The council said it would consider the application for a 210m-long granite retaining wall "on its merits".
The Cliff Road residents are concerned about rate of erosion to Sidmouth's East Cliff and Pennington Point, which they calculate could mean the first of their homes being claimed by the sea within 15 years.
Their planning application proposes building the 5m-high granite revetment running along the base of the cliff.
Members of the residents' action group, who hope the scheme would be publicly funded, said this would protect their homes and a local tourist footpath which is now just 8m (26ft) from the cliff edge.
Flood protection
It would also include measures to protect central Sidmouth from possible flooding caused by the erosion of some of the town's natural sea defences.
Paul Griew, from the Cliff Road action group, said: "It's all too easy to ignore these issues until they affect you personally and directly, but that can be too late.
"Everyone who lives in beautiful Sidmouth - and thousands of summer visitors too - benefits from the beaches and the cliff walks and assumes the town is safe from flooding.
"But unless action is taken to protect the East Cliff, nothing can be taken for granted."
East Devon District Council said: "There is a long history of attempts by EDDC to ensure that, whatever else happens, no sea-flooding of the town of Sidmouth can occur.
"A scheme of some kind might be possible here but it will be subject to many checks and balances before it could go ahead.
"There is a tension between coastal protection and allowing natural processes of erosion, and there are strong lobbies for both approaches."
The council said the scheme would have to be agreed by Natural England and the Environment Agency and would also need Defra funding.