Row over ornaments in Cornwall graveyard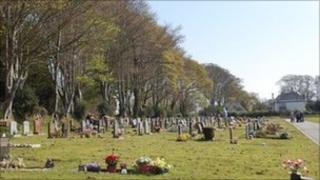 Families with loved ones buried in a graveyard in Cornwall have complained about rules banning ornaments, kerbstones and tributes.
Cornwall Council said was enforcing rules for Campdown Cemetery at Carlyon Bay inherited from a former council.
It said it was enforcing the removal of anything other than burial plots' headstones to make it easier to maintain areas around graves.
Families complained the paperwork did not mention such rules.
Cornwall Council took over the maintenance of graveyards from the county's six former borough and district councils when it started as a unitary authority in April 2009.
It said it now managed 80 closed churchyards and lawn cemeteries, including the Campdown, which was formerly operated by the former Restormel Borough Council.
Jean Caddy has tended to her mother's grave after she was buried in the cemetery near St Austell four years ago.
She said: "Let's be clear about it: we were never told.
"I've got my deeds with me today, and on it does not say on those that you cannot have a kerbstone around.
"They tell us about rules. What rules?
"I looked after my mum when she was alive and I'm sure as hell going to look after her when she's dead."
Tom Williams, whose wife is buried in the cemetery, added: "No-one ever told me that this was going to happen."
'Free-for-all'
Council environment manager John James said it was a "policy that is at least 10 years old."
He said an older section of the lawn cemetery would be able to keep its kerbstones, and it was just a newer section that was affected.
He said: "Over past two years, we've picked up on this matter and looked at it and with worked with funeral directors it, so they now issue guidance notes.
"I totally understand that this is a very personal and sensitive issue, but we have rules and we have to make that we adhere to that policy, otherwise it becomes a free-for-all.
"We need to maintain them so that so that people can access them freely."