Poetry with the Dean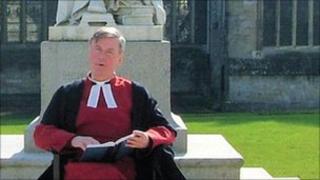 The Dean of Exeter is preparing for a 24 hour poetry marathon.
Jonathan Meyrick proposes to spend 24 hours reading aloud in the Cathedral, in the Chapter House and at the feet of Richard Hooker.
He hopes to cover 20,000 lines of English poetry, Shakespearian blank verse and biblical passages from the King James Version.
The Dean said: "Poetry has always been a key dimension in my own spirituality. I often incorporate it into sermons, and have written a small amount myself, largely in hymn form."
The Dean's sponsored Challenge of reading 20,000 lines of poetry in 24 hours begins at 10:00 BST on Friday 6 May 2011.
Jonathan Meyrick is carrying out his challenge in aid of the Third Millennium.
The campaign has been set up to ensure that Exeter Cathedral and its mission are sustained for the future.
By preserving and conserving its past, as well as seeking new ways to enrich the experiences of all who visit the Cathedral, those working at the cathedral hope our descendents will get pleasure and spiritual comfort from it in years to come.
The Third Millennium Campaign's aim is to make this possible by raising £8m to support three appeals: music, fabric, and the library and archives.
Earlier in April the Very Reverend Jonathan Meyrick, was unveiled as the next Bishop of Lynn. His poetry pilgrimage is part of his goodbye to Exeter Cathedral.
Mr Meyrick said: "I will invite you to join with me as I say goodbye to the Campaign by sponsoring me at the rate of £1 per line.
"Between us, and over a 24 hour period we can raise £20,000 for the Campaign."
Jonathan Meyrick will be consecrated bishop by the Archbishop of Canterbury at Westminster Abbey on 2 June 2011.