Devon and Cornwall teenagers offered summer activities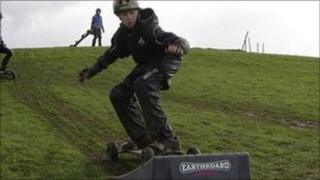 Hundreds of 16 year olds in Devon and Cornwall are being recruited for a government-backed series of outdoor activities during the summer holidays.
The South West was chosen as a pilot area for the National Citizen Service when it was announced by Prime Minister David Cameron.
The scheme, described by Mr Cameron as "non-military national service" could go nationwide in 2015.
Outdoor activities like mountaineering, canoeing and abseiling are on offer.
The aim of the National Citizen Service is to promote young people's involvement in their community, Mr Cameron announced in 2010.
Five hundred youngsters from Devon and 400 from Cornwall are expected to take part.
The charity Young Devon, which is running the £1.2m scheme in the county, said it would help young people develop confidence and have a good time.
Chief executive Tim Tod said: "We are trying to help young people see that they have a real stake in their communities where they can turn their ideas into practice and make a difference."