Exeter-Plymouth football policing 'success'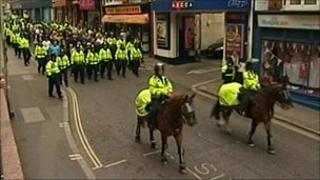 Police have described a major operation to prevent violence at a Devon football match as a success.
About 400 officers helped to police the League One derby between Exeter City and Plymouth Argyle at St James' Park.
After the game, there were some stand-offs between groups, causing disruption to shoppers and traffic. Some smoke bombs were also released.
Police said there were isolated outbreaks of minor disorder but only a handful of arrests. Exeter won 1-0.
The operation was put in place following violence at a derby at Plymouth's Home Park ground in November. More than 20 people were arrested.
Insp Tanya MacKenzie-Clarke, of Devon and Cornwall Police, said the operation had "gone very, very well".
"There were a large number of fans, as we anticipated, and a huge amount of planning went into it."
The police operation focused on keeping the rival groups of fans apart during the end-of-season fixture.
Groups were escorted to and from St James' Park by officers.
Mounted officers were drafted in from south Wales.