Devon railway branch line's 150th anniversary is marked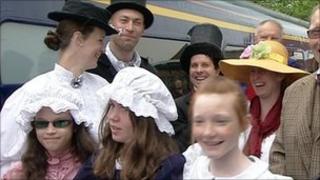 The 150th anniversary of a railway branch line in Devon has been celebrated by railway enthusiasts.
Hundreds of people lined the 14km (9 miles) of track to mark the anniversary of the Exeter-Exmouth Avocet line.
An Intercity High Speed train, provided by First Great Western, was on the line for the first time, taking people along the eight-stop route.
The line is named after the bird the avocet, which is a common sight on the River Exe, which the line runs beside.
Many passengers dressed in Victorian costume for their train ride.
The celebrations were coordinated by the Avocet Line Rail Users' Group.